STOKESLEY'S HERITAGE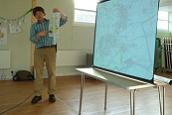 The Stokesley Society has started its Stokesley's Heritage Project, supported by a Heritage Lottery Fund Grant. At a Workshop in November participants learnt about researching old maps going back to 1720 and investigating old newspapers from the Community Archaeologist, Kevin Cale.
Further Workshops will be on the third Monday in the Month , in St Josephs Church Hall. The next one is on 16 January, from 10 am to 12.30 pm, with the option of leaving earlier if necessary. Following an initial session participants will separate into three groups, each working on one the following topics for the production of three Heritage leaflets in the Autumn:
The influence of the Industrial Revolution on Stokesley, with the main theme being the story of the Levenside Flax Mill. Related topics are: why flax was important in the area, stages in the processing of flax, local production of linen, the effect on how people lived. (Contact: Hugh Charman, tel 710507).
The impact of the Manor of Stokesley on the development of the township over the centuries. In particular, what features of this impact are still visible in Stokesley today, e.g. Field systems and boundaries. Pathways. Town Hall. Shambles. Manorial land etc. Development of Manor house. (Contact: David Maudsley, tel 712760).
Buildings and their occupants: for example, Oaklands was owned by John Pratt with his printing empire situated at the rear, employing many locals and producing many publications from bibles to novels. One of his employees, a nine year old boy, was flogged for stealing two penny's worth of glue. Garth House was the Head Quarters of The Yorkshire Rifles. The now dining room was the armoury with rifles placed in racks all around the room. Another aspect is the role of the railway in Stokesley development. The scope is believed to be tremendous. (Contact: Frank Robinson tel 711356).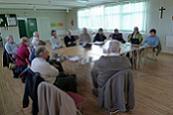 Participants are asked to think about which group you would like to join ahead of the meeting. Later in this three year project, other topics will be studied providing the basis for a 4th leaflet, talks and guided walks.
At a meeting in Stokesley Library in December, members of Stokesley Local History Group provided a useful introduction to the Group's files, held in the Library. They have kindly offered to provide another session this important resource, which can be arranged in Jan. A visit to the County Records Office and a training course on Oral History and have also been arranged in January. It will cover: What is oral history? How to set up an oral history project? How to interview? Interview skills and practice, Ethics of interviewing. This will be relevant to topics such as WW2, the Manor before it was changed following WW2, and memories of residents of the buildings including the yards which ceased to be used for housing in the 1950s.
People interested in participating in the Project should check with one of the contacts given above.
H B Charman