Events
The exhibition of 2003
Undoubtedly, the Group's biggest project was the Exhibition in October, "To Celebrate 150 Years of Stokesley and its Town Hall".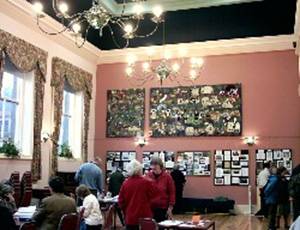 The Exhibition was such a success that it was extended all through the following week.
The total number of visitors was 1349 coming from far and wide, with a profit of £510.90. Although it was very hard work, visitors' comments - 'thoroughly enjoyable', 'very professional' and 'excellent displays' - made it all worthwhile.
The organisers would like to thank everyone in Stokesley who kindly contributed family treasures, photographs, memorabilia etc and brought their family and friends to see the displays.
Following the exhibition, the photographs, newspaper cuttings, research notes, family trees, etc have been put in blue files and donated to Stokesley Library. Now one can visit the Library to browse through the following files and folders:-
Agriculture, Show and Fair, Levenside Floods.
Churches and Chapels.
Family Histories, A-Z.
Fashions since 1853.
Fire and Police.
Indexes of People.
Maps and Plans.
Militia and Army.
People A-Z.
People at Play. Work and Sport.
Railway Stations, Stokesley and District.
Stokesley Buildings, Magazines and Newspapers, Invoices, Postcards, Printers, Schools, Street Scenes.
West, The Chemist.
Tanton Hall's History and its residents.
George Markham Tweddell.
Stokesley 1919 Estate Sale Particulars.
'From Stokesley Town. A Garland of Verses'.