Projects


The restoration of Kent Gate in 2001: an elegant eighteenth century wrought iron gate with massive pillars behind Barclays Bank on the High Street.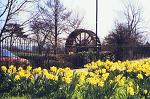 The rescue of an old mill wheel from a demolished mill and its erection on a new site.
The continued maintenance and improvement of the sites of the Mill Wheel and the Stokesley Pound
We improved a section of Levenside with a scheme which won a European Architectural Heritage Year Award.
We organised the installation of plaques on buildings and places of historic interest.
Campaigned successfully for the removal of overhead cables.